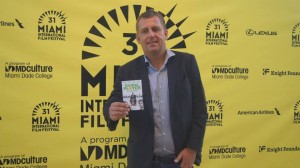 You just presented GLOBAL PLAYER at the Miami International Filmfestival 2014. How was it ?
I attended two screenings with questions and answers after the movie. My impression was the Miami audience enjoyed the film. They were laughing a lot and were curious to know how the german economy copes with the challenge of upcoming china. GLOBAL PLAYER is also a portrait about an entreprenaurial family. A lot of americans know what it means to run your own business so it was easy for them to relate to the story.
It was your third visit to the Miami Filmfestival? What is so special about it?
I think it´s the Latin American and Spanish language selection that distinguishes MIFF from other festivals in the United States. Miami Filmfestival Executive director Laplante said the other day in an interview: "Part of what people attracts to Miami is that it´s between two worlds- it´s not really America, it´s not really Latin America."
I do agree with that. I remember when me and Paul Kalkbrenner presented the film Berlin calling at he Gusman center in 2009, people were dancing in the cinema.
My films are although they touch the "real world" in a way "feel good movies"… I think they match with how Miamians look at things.